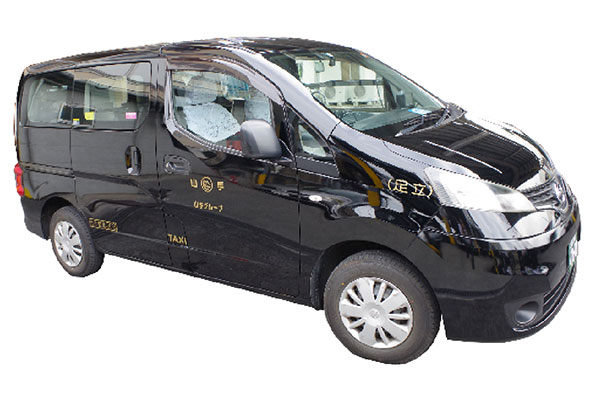 BARRIER-FREE CABS
( 1-20 pax + 1-2 wheelchair )
Photo: Toyota Alphard
TOYOTA Crown / TOYOTA Isis Platana / NISSAN NV 200 /
TOYOTA Alphard / NISSAN Caravan / ISUZU Journey
Seat configuration
NISSAN NV 200

Number of passengers:

1 to 2 passengers and a wheelchair.
[Seats: 2 / Wheelchair space: 1]

TOYOTA Alphard

Number of passengers:

1 to 4 passengers and a wheelchair.
[Seats: 4 / Wheelchair space: 1]

NISSAN Caravan

Number of passengers:

1 to 6 passengers and 2 wheelchair.
[Seats: 5 / Auxiliary seats: 1 / Wheelchair space: 2]

ISUZU Journey

Number of passengers:

1 to 20 passengers and 2 wheelchair.
[Seats: 14 / Auxiliary seats: 6 / Wheelchair space: 1]
Fixed Charge

Airport transfer service is fixed charge, so the price will be 20 to 30% cheaper than regular fee.

Barrier-free vehicles

We have several kinds of universal design vehicles which are helpful for both wheelchair users and caregivers.

Flight tracking

We check flight status and send driver to the airport based on your actual arrival time. You don't need to worry about the delay.

Child safety seats

You can use child safety seats without additional costs.
*Reservation is required.

Bottled water

We offer mineral water to all passengers.